Additional info for Lanzarote 2020
Lanzarote 2020
Here are a few notes to just make your stay more enjoyable and to hopefully answer any remaining questions that you might have.
So, starting at the beginning. Either Tom, Rosie, or myself will be at the airport (Arricife) waiting for you when you arrive. If your flight is going to be delayed by more than 30 minutes, could you please phone me. DO NOT exit the baggage claim area until you have your bags as you won't be allowed back in. Once you do have your bags and come out, I'll be waiting. If you don't see me, turn left and wait at the bar at the end.
We will collect your car at the airport which is included in the cost of your holiday. Please don't forget to bring your driving licence if you're happy to drive. You will be sharing the car with 2 others. Your car will have full insurance included. Fuel for the car will be up to you but it's very cheap in Lanzarote and divided between 3 of you, it really won't be very much. Generally, the local police don't stop tourists in hire cars but there are 2 exceptions; driving without a seat belt and not coming to a full stop at stop signs.
The weather can be changeable but generally it's hot. I'll spend the week in T-shirts and shorts and dress on the island is very casual. I will have boots for flying but otherwise it's flip-flops all the way for me. It is worth having a jacket, fleece or hoodie for the evenings and I'll also have one pair of jeans. I never bring a flying suit. Don't forget swimming stuff, sun glasses and a hat or cap. Also, I use P20 sun protection. It's a water proof, once a day application but you'll need to get it in the UK. We sometimes go caving (wild caving) so you'll need a torch. All bed linen and villa towels are provided, however beach towels are not. You can either bring 1, hire it from the people who service the villa for us for 12 euros per week, or buy one and you'll get a cheap one locally at 10 euros.
It takes about 10 minutes to drive from the airport to our villa and you'll have a map in your car. The address of our villa is:
La Veranda
25 Calle El Barranco
Guime.
Lanzarote.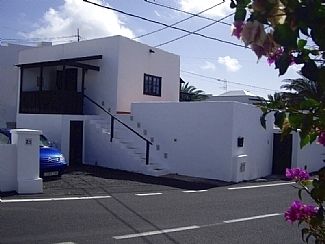 The villa has a key safe outside the front door and the combination is 6291. There is a SKY TV system, sound system, DVD player and of course, a swimming pool. We also have WiFi but it can be a bit slow. There is also a washing machine and ironing board (god forbid).
The villa is looked after by a service company who are really nice, very helpful and drop by twice each week.
We'll have a welcome drinks party followed by a big snack spread on the night you arrive, we'll also be cooking you dinner on Sunday, and Friday night. On the rest of the nights we'll take you to some of our favourite places (if you'd like).
We will make you an outstanding breakfast every morning except Wednesday when we'll leave everything out for you but you'll have to make your own.
The water from the taps is low grade desalinated so it won't kill you and is fine for brushing your teeth, but don't drink it. We will make sure there's always plenty of bottled water so please drink this and use bottled water when making tea and coffee.
The villa is non-smoking in all the rooms, so if you do want a fag, please pop outside.
We want you to treat the villa like your home so if you're hungry, feel free to help yourself. If there's anything that I really need you not to eat, I'll tell you. There will always be fruit and snacks available. We also provide you with unlimited wine and beer as well as Tea (Yorkshire Gold) and coffee (Sumatra Mandheling). We've priced the trip to cover a reasonable amount of consumption so if you feel that you've really attacked the beer and wine and would like to throw a few euros into the kitty, it would be appreciated but it's certainly not compulsory.
If you're in a bar or eating a meal out, people generally don't tip or if they do, it's only a very small amount.
I can't wait to see you all out there!
John and Flight Culture

Ready to fly? Get in touch with us today.