January 2023, Lanzarote, Canary islands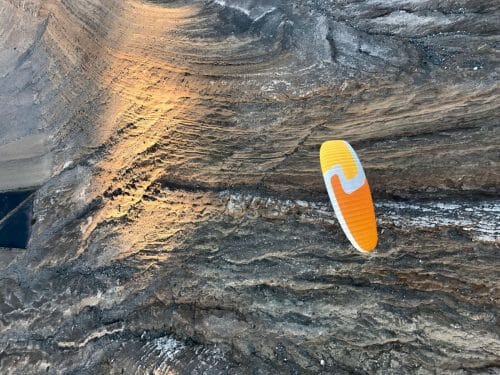 Lanzarote is one of the Canary Islands off the coast of north west Africa. The Canaries are administered by Spain but have a feeling and culture all of their own. Although the island is only 37 miles long and 16 miles wide, there is still huge diversity. This stunning volcanic island is utterly beautiful and a real surprise if it's your first visit.
The flying on the island works on micro-climates and choosing the correct site can be crucial. Most sites offer a mixture of both thermic and dynamic conditions. At one end of the scale we have El Cuchillo which is a massive thermic pump during the hottest part of the day, to Mirador del Rio, a stunning bowl 1400ft above the landing field with silky smooth air.
As the position of the sun moves, we will follow it and fly two or more sites in a day. There are about five sites that we use 95 % of the time and maybe ten others that we fly occasionally. On a good day there will be 2500 – 3000 ft cloud bases and while this is not a destination for big XC flying, small ones are possible and we've helped many pilots through their first XC flight out here.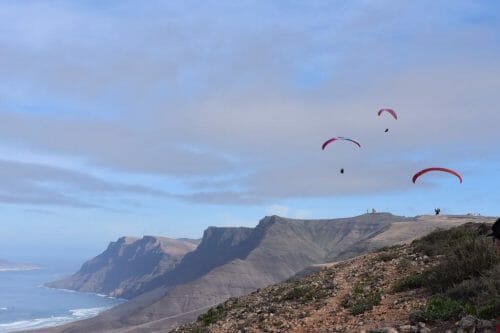 There is all of this, and then there is the Famara Ridge. The scale takes your breath away! You will take off inland and have to really work to make transitions over gaps until you finally arrive on the costal cliff. From here you can float all the way to Mirador (26 km round trip). It is absolutely stunning to fly above the cliffs, listening to the waves crash nearly half a mile below.
In Lanzarote we stay in a fantastic Villa in one of the older villages on the island, away from the commercial tourist resorts. There will be a choice of shared or private accommodation in the villa.
We organise breakfasts as well as two lavish meals in the villa each week, using the best of local ingredients and for the remaining nights we can introduce you (if you wish) to some of the special places to eat on the island.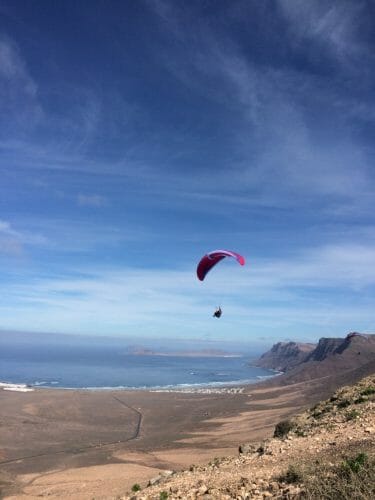 The cost is £1400 for a private room and includes:
Lanzarote airport transfers
On Island transport
Luxury accommodation
Instruction by 2 BHPA instructors with a maximum of 4 students
Equipment (if required)
Breakfast every morning and dinner on 2 nights
Soft drinks, beer and wine in the villa
We don't include transport to/from Lanzarote, lunches, or some of the evening meals.
Ready to fly? Get in touch with us today.