I'd like to learn to fly…
If you're interested in learning to fly paragliders or paramotors, the starting point is the same. You'll need to gain basic skills at inflating your glider. For most people, this is the thing that you'll spend most of your time practising as it's absolutely fundamental.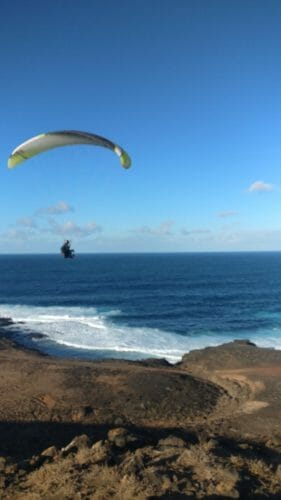 Once you've mastered inflations you'll start making small unpowered flights from a hill to get used to the sensation of taking off and landing. Typically these flights are 3 – 5 meters above the ground. As you become more proficient you'll make progressively bigger flights and by the end of your course you'll be several hundred feet above the ground making controlled turns and a very gentle landing.
Completing the beginner course typically takes 5 days and we will get you to the point where moving on to a full qualification paragliding or paramotoring course will be seamless.
We run most of our courses abroad because the weather is so much more reliable and practising day after day allows you to make rapid progress. We provide theory notes to support all of our courses and you will need to spend some time reviewing them.
Flight Culture only uses new (current generation) equipment as it is easier, safer and flies better. We will provide you with everything that you need and if you wanted to purchase equipment, we're dealers for most of the major brands and always happy to advise you.
We run a BHPA school and our instructors are very highly trained. To become an instructor you need to be an exceptional pilot and if you work hard at it, typically it'll take 3 or 4 years.
Common questions:
I'm not sure how I'll feel about the height…
Generally, if you feel comfortable looking out the window of an aeroplane, you'll be fine. You'll make flights that are very low initially and gradually make bigger ones.
What if I'm unable to complete my course because of bad weather?
This is very unlikely but if you were unable to complete due to bad weather, we'll offer you extra days at no extra cost.
Is there any charge for use of equipment or site fees?
No, we provide all equipment and cover all site fees
All of your courses are on fixed dates, is there any scope for different dates?
We offer bespoke courses and it's always worth enquiring. If we can help, we absolutely will!
Do you always provide accommodation?
It depends on the location. At Dune du Pyla we don't include it but can for a small additional cost. We don't provide accommodation for any of our UK based courses but for all others we do provide accommodation and it is always based on you having a private room.
Can my non-flying partner join us?
Absolutely! There may be an additional charge but they are always welcome.
Ready to fly? Get in touch with us today.