Learning to paraglide or paramotor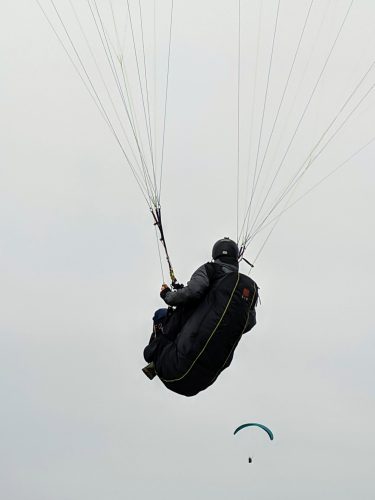 Learning to paraglide or paramotor is an incredible experience and so easy. Sometimes people think it's about throwing yourself off a cliff but nothing could be further from the truth. The first stages in both paragliding and paramotoring are almost identical.
Flight Culture are a BHPA registered school and follow their training syllabus; beginners start with the Elementary Pilot (EP) course which generally takes between four and six days. We only take out very small groups with a maximum of 2 students per instructor and we'll provide all equipment which is new or very nearly new.
Your first day will start with an introduction to the equipment and learning how to inspect it. You'll find that all of our equipment is current generation and we don't use anything old or worn out.
We will teach you to inflate your glider and control it while standing on the ground and having modern kit makes it so much easier.
Once you've mastered the basics on the ground, will take you onto a very small hill and you'll be ready to make your first flight. Initially, you'll only be a few feet off the ground and just skimming it but as you get better we'll slowly take you further up the hill and your flights will get bigger.
Because we have a large staff for relatively small groups of students, you'll move forward at your own pace.
As you continue to improve your flights will continue to get bigger and we'll start to introduce gentle turns which will help you get used to making landing approaches.
By the end of the EP course you'll be able to launch from the top of a hill and without prompting from your instructor, you'll be able to fly yourself down, landing gently.
We always use radios to communicate with you in flight but will also have an instructor in the landing field with signal bats in the unlikely event of a radio failure.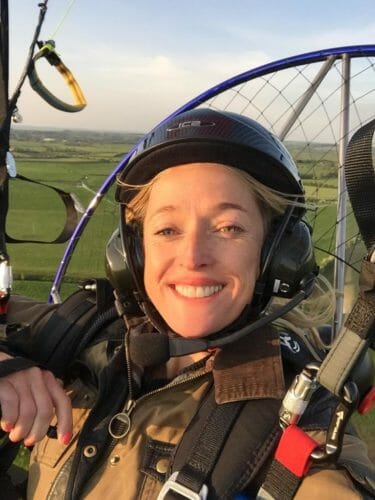 Because the training program is progressive, it's also very confidence building and there will never come a time when you feel frightened or unsure of what you're doing.
There is also a theory element to the course and we'll provide you with a full set of theory notes which we'll supplement with lectures as well as showing you how it's applied when we're out flying. You will have a written test on the theory but we'll make sure you'll well prepared.
Taking your first steps in learning to become a pilot is incredibly rewarding but moving on from the EP into either paragliding or paramotoring is such an adventure.
The summer in the UK is drawing to a close but we chase the sun and offer courses all year. Why not join us somewhere hot and sunny as the UK moves into autumn? Take a look at our upcoming courses here or reach out to us here
Ready to fly? Get in touch with us today.