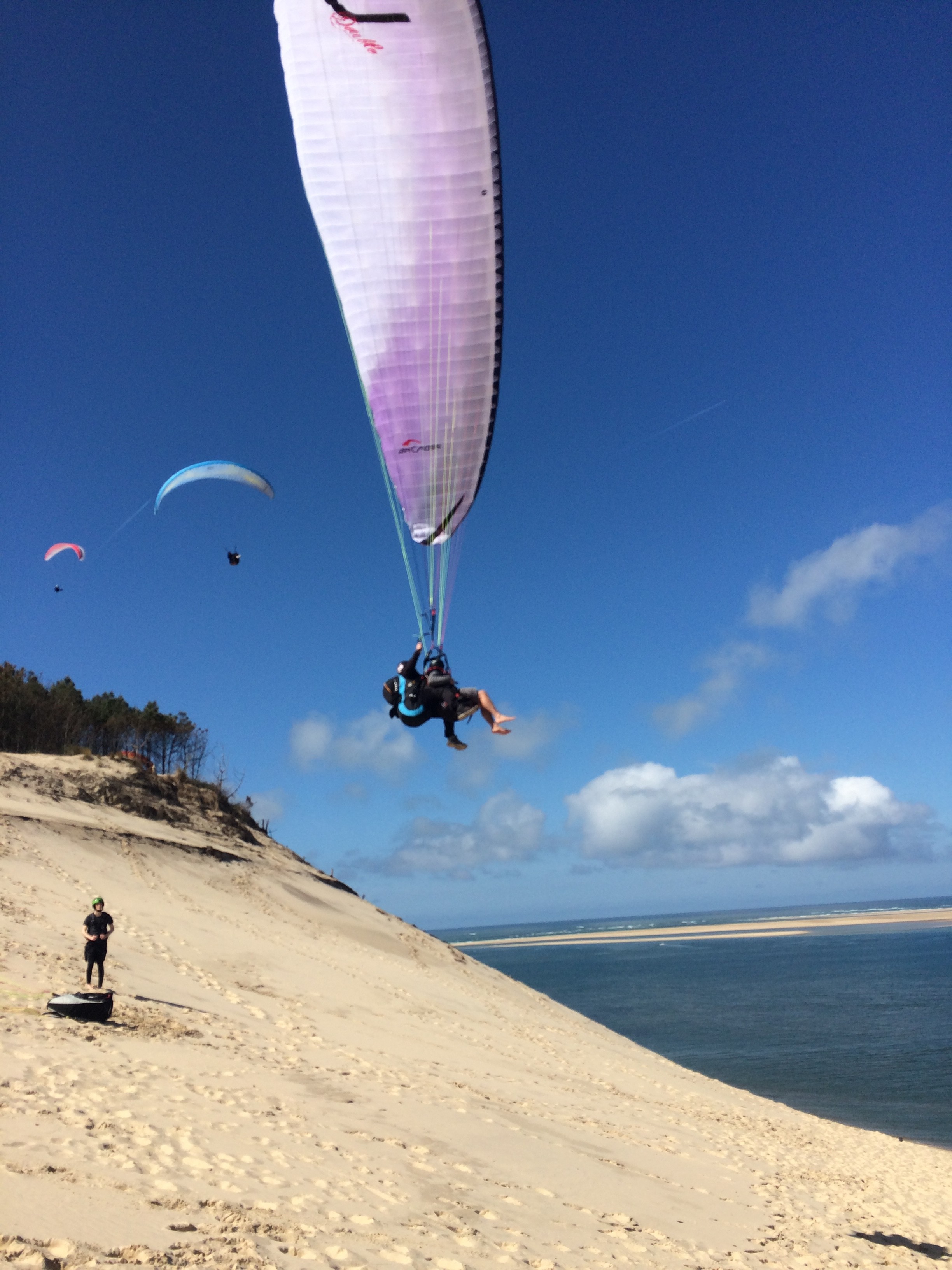 Tandem Pilot course
If you've ever thought about becoming a tandem pilot, here's the low down…
We are a UK registered school (BHPA) so teach to their requirements so let's look at what you'll need.
Firstly, you'll need to be a BHPA member and at least Pilot rated. If you aren't a BHPA member, you can still take part in our course but we couldn't issue a qualification, however we could award a certificate of successful completion.
You must be at least 18 years old, and have more than 200 hours of paragliding hill flying. This means that ground handling, winch flying or paramotor hours don't count towards it. In reality, you'll find the course a lot easier if you've got well in excess of the 200 hour minimum.
You'll need to be outstanding at ground handling so you should be completely able to deal with windy inflations, low wind forward inflations and you should be able to cobra inflate a glider. If you need help with ground handling, please talk to us and we'll come with a plan.
From the start of 2021 you'll also need to have completed a SIV course and hold a current 1st aid certificate in addition to all the other requirements.
We run our courses at Dune du Pyla in SW France with just 4 students, supply a wide range of equipment, have lots of qualified tandem pilots to act as passengers and have an examiner join us towards the end of the course for your examination. The course is nine days long and you'll be very busy. Nine days isn't a long time to cover all the content and you will be very, very busy. The examination is in three parts; a written exam, an interview session with the examiner and the flying tests. Generally, the examination takes place over 2 or 3 days.
Once you complete your course and pass your examination you'll be able to fly family and friends which is so much fun. It really adds another dimension, being able to share something that you love.
If you want to charge for flights, you must do these through a school which is a significantly longer process so if you're hoping for a commercial ticket, I'm afraid it is much more complicated.
We run 2 courses per year, one in early summer and one at the end of the summer and they do tend to book up really early so if you are interested, please give us a call and we'll talk you through it. Our next course is from 6 – 15 September 2020 and details can be found here
Flight Culture Team
Ready to fly? Get in touch with us today.