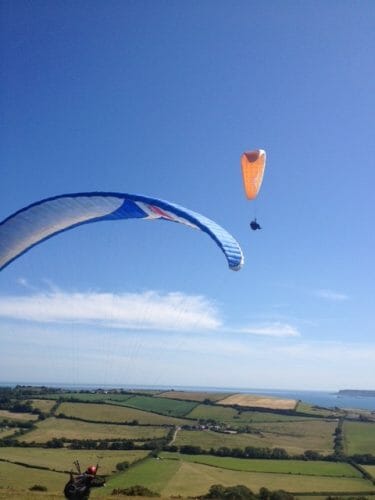 Congratulations! You've passed your EP course and your introduction to flying. Moving on, the next stage is your Club Pilot (full qualification course). We will be running these courses pretty much continuously, initially here in the UK but we will be going abroad just as soon as international travel is possible.
There is a difference in what we offer in the UK and abroad; in the UK you are buying a course and whatever the weather throws at us, we will get you through. On our trips abroad we sell you our time and will take you as far as we possibly can in the time that you're with us.
Before I go through the UK options, I wanted to give you an idea of the places that we will go if restrictions allow.
September: Dune du Pyla, SW France PARAGLIDING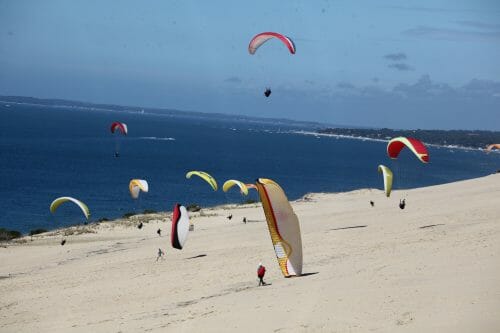 Great weather, clear blue seas, fine wine and of course excellent flying make this coastal location perfect for summer soaring. Situated close to the town of Arcachon, Dune de Pyla is the largest sand dune in Europe.
This is a Paragliders paradise offering reliable flying weather during the spring, summer, and autumn months. Because we visit at the beginning and end of the summer, we get the very best of the weather.
The first time you see the dune it completely takes your breath away because it is over 3km in length, reaches 107 meters above sea level and is absolutely stunning!
The flying is incredibly consistent and soaring along the stunning shoreline is unforgettable.
The cost is £780 per week, including transfers from Arcachon train station, equipment and instruction, and one of grandma Welch's special dinners on your first night.
Not included are flights to Bordeaux or train fair from Bordeaux to Arcachon, accommodation on the campsite where we stay (there is a wide range of options), meals (apart from the first night).
October: Andalusia, Spain PARAMOTORING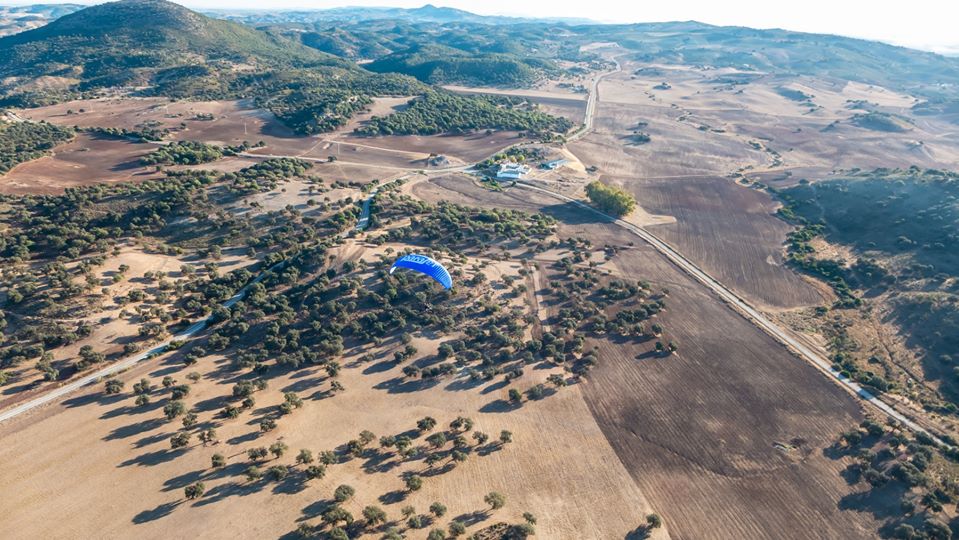 All of our paramotor training in Spain is through The Para Lab, a paramotor R+D centre based around an absolutely stunning villa where you'll have a private room. You'll get a lavish breakfast and dinner every day and all alcoholic drinks in the evening are included. There will always be at least 3 instructors (usually 4), for a maximum of 6 students and we have exclusive use of a gigantic take off field. The landscape is exactly what you'd expect; you'll fly over olive groves, sun baked hills dotted with cork oak, Moorish watch towers, crusader castles and through gorges.
Our nearest town is Moron de la Frontiera which is a very typical Andalusian town, completely off the tourist path.
The cost is £1695 including private room, breakfast and dinner, equipment and instruction, transfers to / from Seville or Malaga and fuel for the paramotors
Not included is transport out to Spain, lunch which we usually have at a local cantina, or damage to paramotors which will be charged at 70% of the price of the repair (we cover the other 30%).
November: Nid d'Aigle, Morocco PARAGLIDING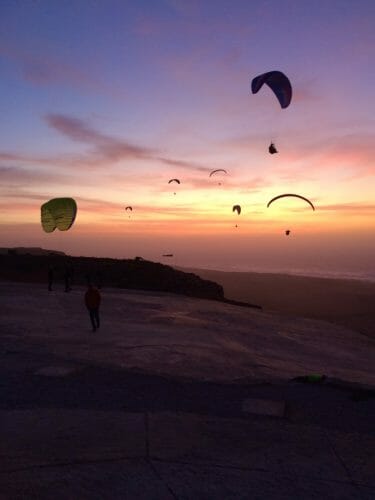 This is the most reliable winter location we have found in the northern hemisphere. Morocco's charm and intrigue doesn't just deliver a unique and exciting environment, it offers a super reliable coastal soaring and a soarable 800ft ridge, often with light thermic conditions too. We are based on the main take off, which is just 25 steps from your room at the fantastic Nid d'Aigle hotel.
Everything you need is on site here. We have a lounge/classroom, restaurant, spa, swimming pool, take off area, top landing area and ground handling areas.
Here, not only do we have smooth coastal soaring, which is ideal to learn how to really start to understand and pilot your wing, but also gentle thermic conditions which will prepare you for the
challenges that lay ahead.-be that top landing, high wind launches, soaring, turning, confined landings or reading the weather.
The cost is £1095 which includes a private room, breakfast and dinner, transfers to Agadir airport. We offer equipment for hire at £150 for a full set for the week.
Not included are Lunch or any drinks except tea / coffee at breakfast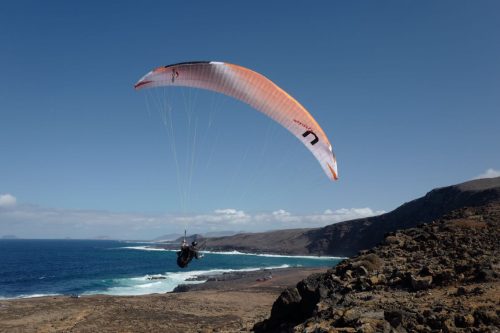 January 2022, Lanzarote, Canary islands PARAGLIDING
Lanzarote is one of the Canary Islands off the coast of north west Africa. The Canaries are administered by Spain but have a feeling and culture all of their own. Although the island is only 37 miles long and 16 miles wide, there is still huge diversity. This stunning volcanic island is utterly beautiful and a real surprise if it's your first visit.
The flying on the island works on micro-climates and choosing the correct site can be crucial. Most sites offer a mixture of both thermic and dynamic conditions. At one end of the scale we have El Cuchillo which is a massive thermic pump during the hottest part of the day, to Mirador del Rio, a stunning bowl 1400ft above the landing field with silky smooth air.
As the position of the sun moves, we will follow it and fly two or more sites in a day. There are about five sites that we use 95 % of the time and maybe ten others that we fly occasionally. On a good day there will be 2500 – 3000 ft cloud bases and while this is not a destination for big XC flying, small ones are possible and we've helped many pilots through their first XC flight out here.
There is all of this, and then there is the Famara Ridge. The scale takes your breath away! You will take off inland and have to really work to make transitions over gaps until you finally arrive on the costal cliff. From here you can float all the way to Mirador (26 km round trip). It is absolutely stunning to fly above the cliffs, listening to the waves crash nearly half a mile below.
In Lanzarote we stay in a fantastic Villa in one of the older villages on the island, away from the commercial tourist resorts. There will be a choice of shared or private accommodation in the villa.
We organise breakfasts as well as two lavish meals in the villa each week, using the best of local ingredients and for the remaining nights we can introduce you (if you wish) to some of the special places to eat on the island.
The cost is £1195 for a private room or £1060 for a shared room and includes:
Lanzarote airport transfers
On Island transport and access to a hire car
Luxury accommodation
Instruction by 2 BHPA instructors with a maximum of 4 students
Equipment (if required)
Breakfast every morning and dinner on 2 nights
Soft drinks, beer and wine in the villa
We don't include transport to/from Lanzarote, lunches, or some of the evening meals.
2022 We will be going back to Andalusia, Morocco, and the Dune. We will also be going to Argentina and The Azores!
Now, for the UK…
We will run our next CP Paramotoring course will be from 9 – 15 August and then from 16 – 22 August and CP Paragliding from 23 – 28 August.
We will prioritise getting the people on the courses through and fully qualified and again, only take 4 max on each course.
You've got the training options but there will come a time when you need equipment. I know that we all love to save money but if you can afford it, I'd really recommend new equipment. When you buy new equipment from us, we will help you fit and adjust everything. We'll take time helping you to feel familiar with all of it and of course we will fit the reserve. The prices quoted below are the prices delivered to you (no shipping costs). We are not tied to any particular manufacturer, we sell what we think represents the best equipment out there.
If you simply don't have the budget, let us know and we'll see what we can offer second hand.
If you decide to buy you equipment elsewhere, we can't take responsibility for any of it and if it's something that we consider unsuitable or dangerous, we won't be able to teach you on it.
So, let's start with paragliding…
Our top choices for gliders are the following: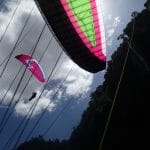 Sky Anakis 3 £2595: This is probably the highest performing A class glider available. The performance and direct handling make this feel like a B class glider but with the safety of an A.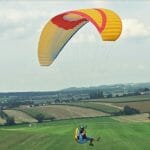 Sky Aya £2495: This is an interesting one; it has good performance and we've had Aya's out on your courses. The reason I include it is because if you intend to both paraglide and paramotor and only want to buy one wing, this is it. It's not a reflex wing so it won't give you the same lick of speed as a reflexed one but…
It's such an easy wing to paramotor with!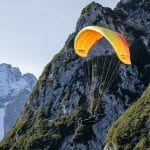 UP Dena £2995: This is UP's answer to the Anakis 3 and it is very, very good. Is it better than the Anakis? Well, it has a slightly different feel. The Anakis feels more lively while the steering on the Dena feels more relaxed. Both manufacturers claim that their glider has the best performance but in truth, having flown both, they are very simlar
Harnesses: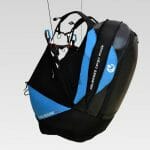 Sky Reverse 5 £745: This is a reversible harness which means that it will turn into a backpack and you can put your glider inside. This is what I fly and I love it. It's very comfortable, durable and gives me great feedback in the air. It uses an air pocket for impact protection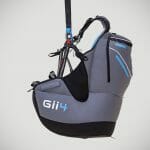 Sky Gii 4 £695: This is another nice harness but not reversible. It feels very similar in flight to the Sky Reverse although for the extra £50 I'd get the Reverse 5. It uses an air pocket for impact protection
Gin Verso 3 £879: This is what Tom flies and he loves it. It's reversible like the Sky Reverse 4 and again, it's comfortable and well made. It uses an air pocket for impact protection.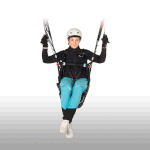 Skywalk Cult 4 £789: Skywalk have made a big point about how adjustable this harness is resulting in it being incredibly comfortable. It's neither reversible nor does it have an air bag for impact protection, using a thick foam pad instead.
Reserves
We use Sky reserves because they actually manufacture them. Lots of other glider manufacturers get Sky to make their reserves but with their own logo on it. So, for example, the Supair Start is exactly the same as the Sky System 3 but with a different deployment bag and over £100 more expensive!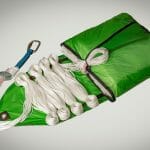 Sky System 3 reserve £545: This is a pulled down apex reserve (pda) and is what both Tom and I use. Super simple to pack, loads of provenance, utterly reliable.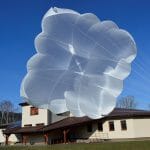 Sky Quatro £595: This is a square reserve which (in theory) has a slightly faster opening time, a slightly slower sink rate and weighs a little less. I have been tempted to upgrade to one of these but haven't done so yet.
Helmets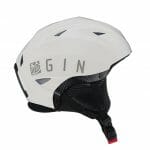 Fly Gin Helmet £77.99: There are lots of helmet options but these are currently available for over £20 less than normal. They're only available in white but are comfortable and good looking.
Icaro Nerv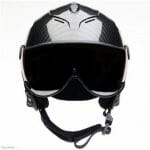 Icaro Nerv £159: A really nice looking helmet and you can get it with a visor (£45 extra) It's comfortable but quite expensive for what it is.
Paramotoring
Paramotors: You will need a power unit (engine) that provides enough thrust to make take-offs easy. If you weigh 75 Kg or less, there is no reason why you shouldn't use a smaller, lighter engine (80 – 150 cc). If you're heavier than that you'll need something larger, 150 – 185 or 200 cc. Electric starts aren't available on smaller engines but are on larger ones (with a pull start back-up). Neither Tom nor I have electric starts because it adds weight, adds complexity (one more thing to go wrong), adds £600 to the price and we just have never felt that we needed one. If you decide not to have an electric start it is not possible to retrofit an add one later.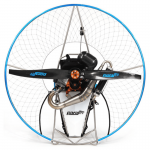 Parajet Maverick: these have been around for about 5 years now and come with either 80 or 185 cc Vittorazi engines. Tom and I have used these since the beginning and have thoroughly enjoyed the experience but effectively, there is very little difference in what they are selling now, compared to 5 years ago. The cost of a Maverick with an Atom 80 cc ++engine is £5880 and £5960 for a Maverick with a Moster 185 cc engine.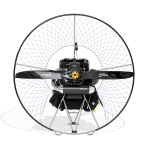 Starseed Fusion: This is currently state of the art. The fusion frame is packed full of innovation and is a dream to fly. Tom and I are waiting for our new Starseed Fusions. As with Parajet, these are offered with either the Atom 80 engine at £6840 or the Moster 185 engine at £6860. Ok, you might ask why you should spend the extra money over the Parajet Maverick and all I can say is that Tom and I have flown both and we are selling our Mavericks and getting Starseeds.
Paramotor wings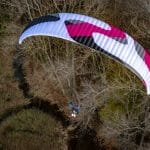 Sky Flexor £2950: We LOVE this glider! It is simple to launch, land and fly but is still a reflexed wing. Reflexed wings generally need to be treated with great respect. When you are flying in reflexed mode, you use "tip steering" and if you try to use the breaks you will stall or spin it. With the Flexor this will not happen and is currently the ONLY reflexed wing that can claim that. Honestly, there is nothing to touch this wing and there's nothing I can give you for comparison (because there isn't any). If you're hoping to use one wing for both paragliding and paramotoring, you need to understand that it's a compromise. Currently there are 2 manufacturers promoting wings that purport to do both. Dudek has the Universal but if you want to swap it from paragliding to paramotoring (or visa versa) you will need to change the risers and fit the tip steering lines yourself. Ozone have the Roadster 3 which has EN certification (most other reflexed wings don't) but they have had to do terrible things to the glider to have a wing certified for paragliding and paramotoring. Both Tom and I have taught and flown the Roadster 3 and it's horrible to fly and is the result of trying to make a wing that does everything. Interestingly, the Roadster 2 was a much nicer glider. So, back to having one wing hat does both, understanding that you're making compromises, is he Sky Aya.
Paramotor Reserve parachutes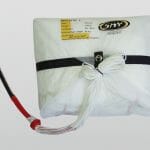 Sky Lite £990: There used to be much less expensive options but unfortunately, it's no longer offered. If your total weight is less than 130 Kg you'll be able to use a reserve costing £545 but that is the total weight of everything that leaves the ground (you, your paramotor, fuel, everything) so this applies to a pilot with a body weight of 85 Kg or less. If you weigh more than 85 Kg we'd have to look closely at your equipment to determine if you can get away with the smaller reserve or larger one.
Paramotor helmets
Microavionics. Prices range from £269 to £563 with comms fitted. This includes premium quality ear defenders and connections for a radio and bluetooth. If you're not fussed about comms you'll get a good helmet with premium ear defenders, you're looking at about £180.
Final word on equipment. Please be aware that all of the most popular manufacturers have significant lead times at the moment (6 – 8 weeks). We've been working with all of them for many years and sometimes can move things forward a little faster. There are some manufacturers that can offer "off the shelf" but there is a reason for this…
Best wishes,
Flight Cultre
Ready to fly? Get in touch with us today.