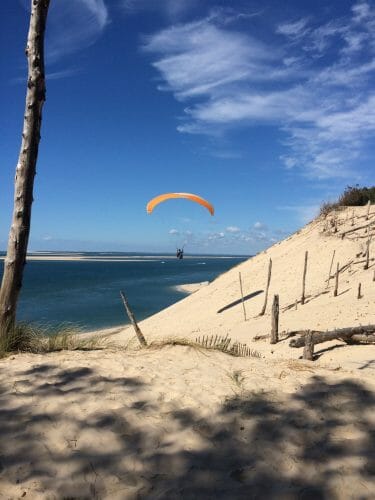 We're going to the Dune…
We're going paragliding at Dune du Pilat in September and I can't wait! If you've been with us you'll know that it's just the most fun place anywhere to paraglide!
We are running 2 weeks, 2 – 9 and 9 – 16 September 2023 and will be offering beginner courses as well as CP completion / post CP development courses. We're able to do this because we'll have a minimum of 2 instructors with us and the total group size will only be 6 people. We'll handle your transfers, transport you while you're with us, supply all equipment (if required), supply radios and you'll get a legendary Grandma Welch's pulled pork dinner on arrival  (or a stunning veggie alternative) .
The flying is so good; the air is silky smooth and the Dune is just a confidence building environment. If you have your own equipment you're welcome to bring it, otherwise we'll supply you with everything.
Actually, the Dune is so much more than just the paragliding; it's stunningly beautiful, we eat at great restaurants, drink Bordeaux wines made locally, visit local markets and we're living on the beach! We get fresh oysters straight off the oyster docks and have them at the end of a long day of flying, sitting out on our veranda.
We limit the total number of students to 6 and these courses will be run by at least 2 UK instructors. We've spent a lot more time on the Dune than any other British school so will really help you get the most from it. Dune du Pyla has introduced restrictions on groups and the people running them, but we're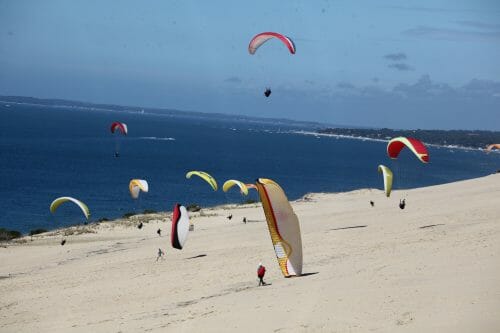 fully compliant. Of course, all of our courses are supported by a pack of theory notes and we will help you complete your written exams..
This really is as good as it gets, so who's with us?
Ready to fly? Get in touch with us today.