Adventure is calling…
Do you feel like an adventure? We run paragliding and paramotoring trips to some of the most incredible destinations on the planet and would to have you join us.
Dune du Pyla, SW France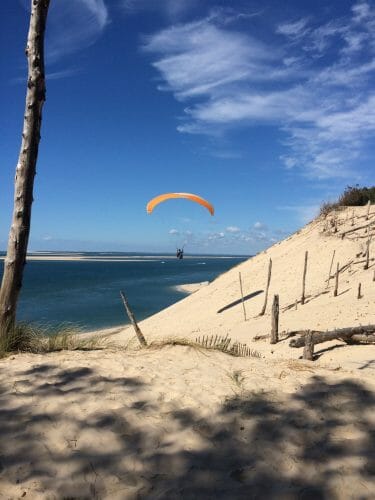 We will be going to Dune du Pyla in SW France from 16 – 27 September. It is the biggest sand dune in Europe and is breathtakingly beautiful!
If you're a beginner The Dune is a really easy place learn and if you've already started to learn (P1 or P2) you'll be able to make rapid progress and develop great soaring skills.
If you're more experienced (P3 or above), The Dune is a giant skate park for paragliders; sand skiing, hand dragging and tip touches are what we do all the time.
During non-flyable periods we'll show you some of the things that this area is known for including an incredible street market, we'll visit the oyster docks and eat fresh Arcachon oysters, visit one of the great Bordeaux vineyards, surf down at Biscarosse and so much more.
We've been visiting this area for more than 20 years and will help you get the most of it.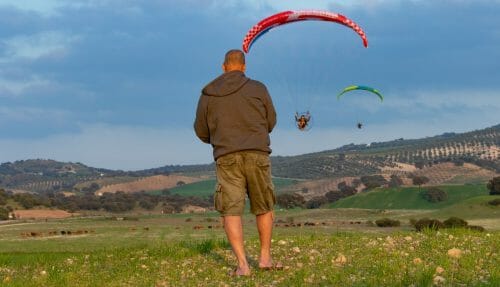 Paramotoring in Andalusia, Spain
If the Dune doesn't grab you, why not join us in Andalusia, southern Spain and learn to paramotor? Our base is about an hour and a quarter from Seville. We have a fantastic rural villa and are surrounded by olive groves, hills dotted with cork oak trees and hilltops dotted with Moorish watch towers and crusader castles. You will need to have done some flying before joining us so will need to be at least P1 or have made some paramotor flights. Our airfield is less than a 5 minute drive from our villa, is huge and works in all wind directions. We will provide you with breakfast and dinner every day and will heavily feature local produce and recipes.
Again, this is an area that we know intimately and look forward to showing you the culture of western Andalusia. During non-flyable periods we'll visit Roman and Moorish ruins. We'll take you for lunch in little cantinas in beautiful white washed villages. There are gorges and caves to explore and we'll make sure that you get the very most from your visit.
We will be running paramotor courses in October and February
Morocco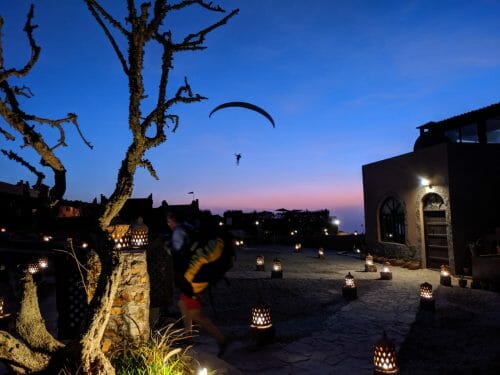 As we get later in the year and temperatures in Europe start to drop, we head south to Morocco. Morocco is very different and you'll notice the cultural differences straight away. We'll be at the airport to meet you (Agadir) and drive you a couple hours south to our hotel. The hotel is perched on a ridge overlooking the ocean which is about 2 miles away and you feel like you've stepped into something from The Arabian Nights. You'll get breakfast and dinner each day and the hotel serves both European and local Berber food. While you're with us you'll get to visit the local souk (market) for a wander around. Your lasting image of Morocco will be palm trees, camels and green oases surrounded by desert.
The hotel has a private paragliding take-off and it is less than 100 feet from your room and the same for the top landing area. The landing area at the bottom is huge and very straightforward. The flying is a mix of coastal and thermic flying and this is an outstanding place to build airtime as well as for beginners to learn.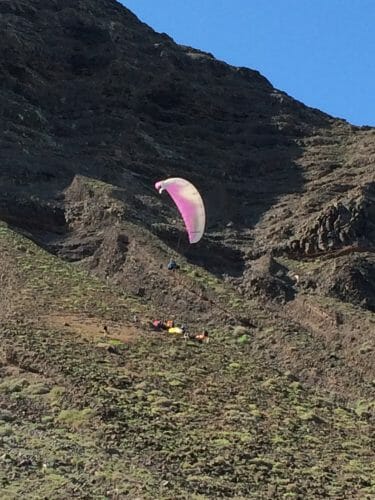 We run these courses all year and for 2022 we will be in Lanzarote in January, back to Spain for more paramotoring in February, Morocco again in March and the Azores in April. Keep up to date with what we're planning here.
Travelling abroad for a paragliding course can be part of a bigger trip and we're more than happy to help you plan it. We can offer suggestions based on your interests and how much time you have.
Because we supply all equipment, it will make travelling so much easier and all of our equipment is new or nearly new.
If you are coming as a group of 4 or more we can offer the week exclusively for your booking. We have 1 instructor for every 2 students so we'll really help you get the most from your time with us.
We are a British registered school and teach their syllabus. The UK rating system compares to the USHPA system like this:
Elementary Pilot (EP) is equivalent to P1
Club Pilot (CP) is equivalent to P3
Pilot (P) is equivalent to P4
Advanced Pilot (AP) is equivalent to P5
Our prices are quoted UK Pounds.
If you have any questions or would like to make a reservation, please contact us here
Ready to fly? Get in touch with us today.